06 February, 2020
WINNERS COMPETITION INDUSTART 2019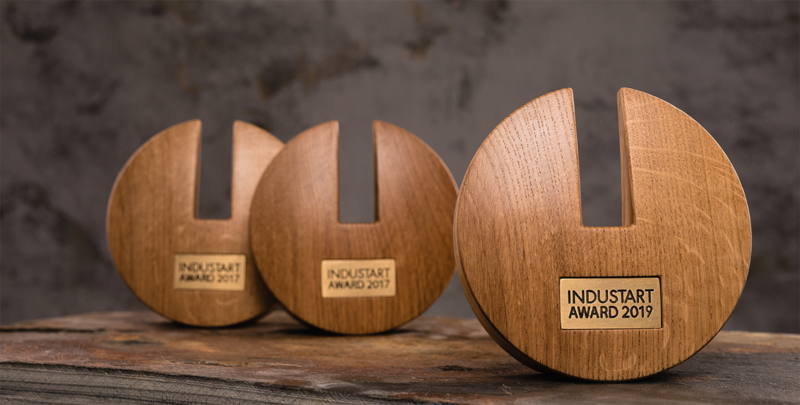 ANNOUNCED THE WINNERS OF THE INTERNATIONAL
COMPETITION OF PRODUCT DESIGN INDUSTART 2019
The solemn
awards
ceremony
of
the international competition INDUSTART
was held
in Kiev on the 06th February
2020
.
The contest was attended by designers from 72 countries from every continent. Works of the contestants were
evaluated by 50
influential
representatives of the world of design from 18 countries: journalists, architects and designers.
NDUSTART is an award in design domain, granted by reputable international jury, which consists of over 50 well-known personalities from multiple areas of design, art-directors, flagship media editors-in-chief, industrial design experts.
INDUSTART trophy is rewarded to designers and manufacturers for their achievements in product design. INDUSTART includes 7 nominations, as follows: Furniture design, equipment design, lighting appliances design, computer/home appliances design, interior decor design, jewellery and accessories design. Each category is split to sub-categories: completed projects, concept design, student design.
COMPETITION INDUSTART 2019 RESULTS:

WINNERS IN THE CATEGORY

—

A. FURNITURE
WINNERS IN THE CATEGORY

—

B. EQUIPMENT
WINNERS IN THE CATEGORY

—

C.

LIGHTING
WINNERS IN THE CATEGORY

—

D.

HOUSEHOLD AND COMPUTER EQUIPMENT
WINNERS IN THE CATEGORY

—

E. TRANSPORT
WINNERS IN THE CATEGORY

—

F.

INTERIOR OBJECTS
F-2-4
TRENTApercento30%
—
Federica Ditta
​,
Italy
WINNERS IN THE CATEGORY

—

G.

JEWELLERY & ACCESSORIES
G-1-1
UN/LIMITED
—
Kuan-hua Chou
,
United States
G-2-2
Time Perception
—
Pavlo Doro
, Ukraine
G-3-2
"Iron Heart" Chronometer
—
Oleksandr Polatai
​,
Ukraine
Partners of the INDUSTART competition in 2019: